April 1912 - April 2012

(and beyond)

The establishment of a major studio, an epochal disaster, a woman's remarkable, daring feat, the birth of an international superstar--these were four happenings of continuing significance to film history. Once again, I have been late to the party due to my completion of a project I plan to announce on this site within a few weeks. Still, I would like to take note of the centenary of these memorable, varied events, all of which were commemorated in the month of April 2012.

It was on April 1, 1912, that G. M. Anderson, world-renowned for his characterization of cowboy hero Broncho Billy, arrived in the East Bay community of Niles, California to set up a permanent Western studio for the Essanay Company. For the last year and a half, Anderson had alternated months of filming in the Bay Area towns of Los Gatos and San Rafael with weeks of location shooting in the southern part of the state. When in the spring of 1912, Anderson moved his company to Niles, he opened for the first time in Northern California a formal, functioning film studio. Like many of its counterparts in the Los Angeles region, this first studio was headquartered in an old barn, a structure that would be supplanted the next year by a much more spacious production center. During their first month in Niles, Anderson and his unit immediately began utilizing the scenic delights of the lovely countryside in and around Niles as a perfect background for the exciting Western adventures they made for the thousands of nickelodeons around the world.

By shaping a major genre that would influence filmmakers not only in America but internationally, Broncho Billy Anderson placed the little town of Niles at the heart of cultural change. The studio's transformational role was further enhanced when, in 1915, Charlie Chaplin, under contract to Essanay, wrote, starred in, and directed a series of comedies in which he developed his immortal Tramp character. Although the Niles studio closed its doors in early 1916, the region continued to attract silent filmmakers, including Mary Pickford with Rebecca of Sunnybrook Farm (1917) and William Desmond Taylor with Huckleberry Finn (1920), who found it ideal for locations. The Essanay studio has never been forgotten; fittingly, April 1, 2012, marked the start of a series of events in Niles commemorating its centenary. For more on both the history of the Essanay Niles studio and the ongoing celebrations, including the making of a new film with the kind of cameras utilized by the company a century ago, go to the Niles museum's website at: http://www.nilesfilmmuseum.org/

Despite Anderson's Northern California venture, however, it was already clear by 1912 that Los Angeles was destined to remain the center of West Coast production. In April, Biograph with units headed by D. W. Griffith and Mack Sennett were hard at work directing a memorable succession of one-reel films. It was during this month that Mabel Normand flew as a passenger with aviator Philip Parmalee for an adventurous comedy called A Dash Through the Clouds.
It was one of a number of films directed by Sennett anticipating his establishment of the Keystone Company later that year, another outstanding event of 1912 that will be commemorated in 2012. A close-up of a written note in A Dash Through the Clouds bears the date,
April 15, 1912, strongly indicating that all or most of the film was shot on that date which fell on a Monday. Mabel's exciting journey in the air was emblematic of the wondrous technologies of the new century that were transforming the face of modern civilization. It can be viewed online at: http://archive.org/details/ADashThroughTheClouds1912
Ironically, the very same day this film was being shot, headlines everywhere were proclaiming the shocking news of a stunning disaster that altered forever how the advances of the new age were viewed, leaving an indelible mark on cinema history in the process.
So much has been written, and will continue to be written about, the sinking of the Titanic on April 14-15, 1912, so many commemorations have taken place, that I will confine myself here mainly to note the powerful imprint it has had on the cinema during the last 100 years. Although no actual film exists showing the legendary ship's departure from Liverpool, the makers of an early newsreel successfully utilized footage taken the previous year of the Titanic's sister ship, the Olympic, and Captain Edward John Smith who commanded both vessels. Indeed, so clever were they in this that many people today have mistaken it for the real thing. http://www.youtube.com/watch?v=93bf8ITtiVI
As dramatic as anything connected with the doomed ship is the turbulent life of its film star survivor, Dorothy Gibson. A leading actress with the Éclair Company, Dorothy a week after the disaster played herself in a recreation for the camera entitled Saved from the Titanic. This one-reel docudrama is one of the most sought-after lost films. For the model-turned-actress, the harrowing experience on the Titanic would be the first of a series of misfortunes plaguing her, culminating in a mysterious, not-fully explained involvement with Nazi Germany during World War II. Articles on Dorothy Gibson's life and career can be found at:
http://www.classicimages.com/articles/2011/12/28/past_articles/gibson.txt
http://www.encyclopedia-titanica.org/dorothy-gibson.html
http://www.encyclopedia-titanica.org/titanic-survivor/dorothy-gibson.html
http://www.titanic-titanic.com/article_phil_gowan_bio_pauline_dorothy_gibson.shtml
Later in 1912, a German company produced a longer, more elaborate cinematic dramatization of the Titanic disaster. Considered lost for decades, In Nacht und Eis (In Night and Ice) was rediscovered in the wake of the publicity over James Cameron's 1997 spectacular. The restored three-reel film can be viewed online at: http://www.youtube.com/watch?v=YwrMn_tnoiM
The legendary catastrophe surfaced again on the screen during the transition from silents to sound. Another German filmmaker, E. A. Dupont, retold the story of the ship's sinking in Atlantic (1929). This fictionalized depiction of the disaster, one of the first British talkies, can be viewed online at: http://www.youtube.com/watch?v=NrY4BDB9MMo Over the next decade, the most notable evocation of the Titanic was a poignant scene with a doomed couple aboard the ship in the Academy Award-winning Cavalcade (1933).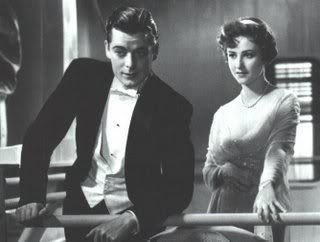 It remained, however, for the Germans to produce the most spectacular recreation of the fated vessel to date in a lavish propaganda film with one of the most troubled real life histories of any movie ever made. Titanic (1943) was commissioned by Germany's notorious propaganda minister, Dr. Joseph Goebbels, as an indictment of the British. Despite this sinister background, the film included a striking depiction of the 1912 calamity at sea. Before the film was completed, however, its director Herbert Selpin was arrested for treason and then found dead in his cell, very possibly murdered on Goebbels' orders after he was overheard criticizing the conduct of the German military working on the film. The film can be seen online at:
http://www.australasianskeptics.info/viewtopic.php?f=40&t=1025 Also accessible here is a recent documentary on the making of this film.
The 1950s would see the famous catastrophe dramatized in two major films, Jean Negulesco's big-budget Titanic for 20th Century-Fox in 1953, with a cast including Barbara Stanwyck, Clifton Webb and Robert Wagner, and the film that is usually considered the most accurate depiction of the events ever filmed, A Night to Remember, produced in Britain in 1958. The latter film is available for online viewing at: http://www.youtube.com/watch?v=v6MoOuYSpg0 The dramatic events of 1912 continued to inspire filmmakers, including the climactic sequence of The Unsinkable Molly Brown (1964), a fictionalized musical depiction of survivor Molly Brown starring Debbie Reynolds, and S.O.S. Titanic, a 1979 made-for-television production that was also released theatrically. The public's enduring obsession with the ocean liner's fate culminated, of course, with James Cameron's spectacular mega-hit of 1997.
The dramatic headlines about the Titanic quite overshadowed at the time another exciting story, this one an inspiring triumph by a courageous and resourceful woman demonstrating mastery of technology. On April 16, 1912, this remarkable woman, Harriet Quimby, became the first female pilot to fly an airplane across the English Channel. She, too, had a connection with the cinema stemming from her friendship with the rising young director at the Biograph Company, D. W. Griffith, and his wife, actress Linda Arvidson. After appearing in one of Griffith's films, Lines of White on a Sullen Sea (1909), in which Mack Sennett also had a part, Harriet wrote several scenarios that Griffith filmed in 1911, the same year she became the first American woman to obtain a pilot's license. Linda Arvidson was with Harriet in England when she embarked on her epochal flight. Also on hand were newsreel cameramen who recorded both her departure from Dover and her arrival in France. Footage of her historic flight can be viewed at http://www.youtube.com/watch?v=uJQfY1_BwRI
http://www.youtube.com/watch?v=YmDBRliPTk4&feature=related
While the initial press attention was distracted by the grim news of the Titanic, as awareness of her feat grew there was more and more space devoted to her in the newspapers, indicated by a featured interview in the May 26, 1912 New York Tribune. In this, she recounted her flight and declared herself a suffragette, expressing bewilderment at women who opposed getting the vote.
Over the last 100 years, the legendary stature of the dazzling, beautiful woman who conquered the skies has only grown with time. There have been many books and articles devoted to her, along with a PBS documentary and several websites including:
http://www.theatlantic.com/national/archive/2012/04/the-glamorous-adrenaline-fueled-life-of-harriet-quimby/256355/
http://www.kuriositas.com/2012/04/harriet-quimby-myth-obscured-by-legend.html
The Harriet Quimby Centenary Project has been established to commemorate the 100th anniversary of her flight. On the eve of the centennial, there was a celebration in Dover. Future plans include an erection of a statue of Harriet in Dover.
Two and a half months after her triumphant flight across the channel, Harriet lost her life in an aviation accident over Boston Harbor, exactly one month after Mabel's pilot, Philip Parmalee, died in an airplane accident on the other side of the continent. Inevitably, one wonders what if she had lived? What other brilliant feats in the air might she have achieved? Perhaps she would have built on her association with Griffith, Arvidson and Biograph to continue a career in cinema not only as a writer but also a director and an actress. Despite her tragically early end, however, Harriet had left a lasting legacy that included inspiring others in cinema. Her daring persona would provide a stirring real-life example for the fearless serial queens who, within a few years, became central to the movie-going experience throughout the world.
Just one day after Harriet Quimby flew the Channel, a girl destined to soar high in another field of human endeavor was born in Budapest. As a child in the early 1920s, Marta Eggerth was already a prodigy, gifted with a rich coloratura voice that placed her in the front rank of female vocalists. She toured throughout Europe, performing many demanding roles in both grand opera and operetta. Movie audiences, however, first saw her in a silent feature, Csak egy kislany van a vilagon, shot in Hungary in 1929 and released the following year. Directed by Bela Gaal, one of the country's leading directors, it was the final Hungarian silent film, although some sound was added afterwards to adjust it to the new medium that was taking hold.
It was sound that immediately established Marta Eggerth as a major star of the cinema when, in 1931, she began appearing in numerous musical films produced in Germany and other European countries. Eminent composers, including Franz Lehar, Robert Stolz, Hans May, Paul Abraham, and Emmerich Kalman wrote songs especially for her. Her magnificent, lilting soprano which recorded so well in the early talkies, combined with her graceful dancing, excellent acting and radiant blonde beauty, won her a wide following with filmgoers around the world. Some of the many memorable films in which she starred include Ein Lied, ein Kuss, ein Madel (A Song, a Kiss, a Girl, 1932), Die Blume von Hawaii (The Flower of Hawaii, 1932), Unfinished Symphony (directed by Anthony Asquith in Britain, 1934), Die Czardasfurstin (The Czardas Princess, 1934), Die blonde Carmen (1935), Casta Diva (made in Italy, 1936), and Das Hofkonzert (directed by Douglas Sirk, 1936). By the mid-1930s, she was one of the top ten international box office favorites and, at one point, the only non-Hollywood star to enjoy that distinction.
In 1936, she married the great Polish opera star, Jan Kiepura, also a leading favorite with cinema audiences. His classic 1932 film, Be Mine Tonight, co-starring Magda Schneider and directed by Anatole Litvak, was the most popular European film released in the United States in the '30s. The two films teaming Kiepura and Eggerth, My Heart Calls You (1934) and The Charm of La Boheme (1936), also entranced audiences of the '30s. In 1935, Marta journeyed to Hollywood for a musical film that was never made. Among those who had greeted her on her arrival in the film capital were her fellow Magyar, Bela Lugosi, William Wyler, producer Paul Kohner and his wife, Lupita Tovar, who celebrated
her own centenary two years ago, and Gloria Stuart, the future co-star of the 1997 Titanic. Perhaps because Universal was in an unsettled, transitional state, the film was never made.
The spreading madness in Europe that followed in the wake of Hitler's Anschluss of Austria led Marta and Jan to emigrate to the US. Among their many credits in America was a stage revival of The Merry Widow that enjoyed extraordinary success. Hollywood, however, failed to utilize fully Marta's talents, despite her having starred in more than 30 feature films in Europe followed by co-starring on Broadway with Jack Haley and Shirley Ross in the 1940 Rodgers and Hart musical, Higher and Higher. But apart from supporting roles in two Judy Garland films at MGM in 1942, there would be no other work for her in American films.
Marta, however, has continued performing ever since. Her talents undiminished with the years, she has continued to give concerts. Hers has been an extraordinary career indeed, linking the silent and sound eras of film, grand opera and musical comedy, Europe and America, the 20th and 21st centuries. Recently celebrating her 100th birthday, she observed she doesn't know what it feels like to be 100--ask her when she is 200. As a tribute to this great artist of music and cinema, I have created a special birthday page with links to websites and articles about her at:
https://william-m-drew.webs.com/martaeggerth.htm
While this post may seem somewhat belated in its appearance, the commemoration of these four centenaries in April should properly be viewed as having been the start of a year-long remembrance of events and personalities with great and lasting importance in history, including that of the cinema.
Other links: A nostalgic look at the year 1912, blending film clips with the music of the era, at: http://www.youtube.com/watch?v=3CaieEwEuiw
A trailer for The Canyon, the commemorative new silent being produced by the Niles Film Museum, at: http://www.indiegogo.com/nilesfilm
The commemoration of the Niles Essanay studio on April 1, 2012 presented on Youtube at:
Broncho Billy's Fatal Joke, a 1914 Essanay film shot in Niles, can be viewed online at: